WELCOME TO PRESTON, WILSON & CRANDLEY, PLC
Preston, Wilson & Crandley, PLC originated in 1955 when E. Page Preston opened his solo practice in Norfolk, Virginia. Mr. Preston developed his practice principally in the area of insurance defense. Over the years, Mr. Preston was joined by his brother John Preston and later by Gilbert Wilson. In 1979, John G. "Jack" Crandley was hired by the firm and was made a partner in 1984, and in 2009, John G. Crandley, Jr. joined the firm.
The attorneys of Preston, Wilson & Crandley, PLC have litigated in all levels of Virginia's state court system, the United States District Court for the Eastern District of Virginia, the United States Bankruptcy Court for the Eastern District of Virginia, and the United States Court of Appeals for the Fourth Circuit. Our trial lawyers have handled thousands of injury cases, from catastrophic brain injuries to minor sprains and strains, with numerous cases going all the way to the Virginia Supreme Court. Many of the seminal cases on personal injury law in Virginia have been successfully argued by the lawyers of this firm.
The attorneys of Preston, Wilson & Crandley, PLC have continued their practice in insurance defense through the present, but they have also expanded to include plaintiff's personal injury litigation, plaintiff's insurance contract litigation, and general civil litigation. We regularly handle cases in the cities of Virginia Beach, Norfolk, Chesapeake, Portsmouth, and Suffolk as well as on Virginia's Peninsula and Eastern Shore, and we are happy to discuss the representation of potential clients outside of these geographic areas.
Here at Preston, Wilson & Crandley, PLC, the client's case is given the benefit of our years of experience, but your case also gets the attention to detail that it deserves. Our clients work directly with a trial lawyer from start to finish, talking to the lawyer on the phone, meeting with the lawyer face-to-face, and going to court with that same lawyer who you have worked with and developed a comfort level with from the beginning of your case. That personalized attention to your case, combined with the experience our lawyers, will give you confidence that your case has been put in the best position for success. Our firm has been successfully representing people in injury cases in Virginia since 1955. Give us a call and put our experience to work for you.



Having represented insurance companies for many years, the personal injury attorneys of Preston, Wilson & Crandley, PLC have extensive experience dealing with insurance companies to offer to their personal injury clients, which is somewhat unique among firms representing personal injury plaintiffs.
The two principal protections provided to the insured in an automobile insurance contract are coverage up to the limits of the insurance policy and a defense in the event that a lawsuit is filed against the insured, arising out of the insured's operation of a motor vehicle.
INSURANCE COVERAGE DISPUTES
Having represented insurance companies for years, the attorneys of Preston, Wilson & Crandley, PLC have extensive experience handling questions of insurance coverage when disputes arise between insurance companies or between individuals and insurance companies.
Although the majority of our practice focuses on the representation of persons injured in car accidents and the defense of lawsuits arising out of car accidents, the attorneys of Preston, Wilson & Crandley, PLC also handle other matters of civil litigation.
If our law firm can be of any assistance to you
please contact us at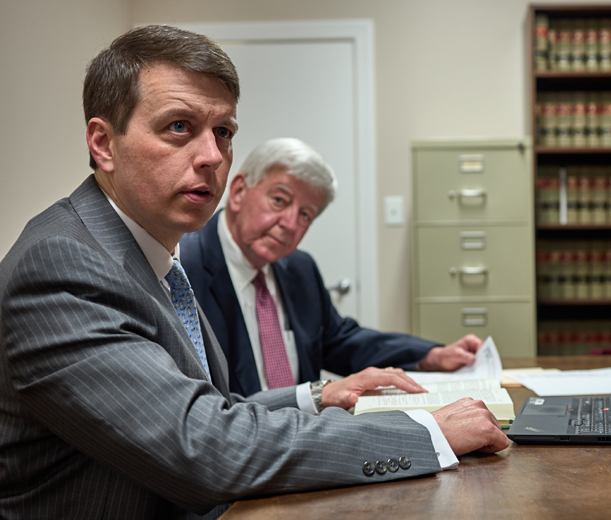 "I needed a lawyer for a personal injury case. After I did a lot of internet research, my wife's lawyer suggested John Crandley Jr. from Preston, Wilson & Crandley.

I read through their website and liked their style, so I called John.
"He was outstanding. From the beginning, he listened, came up with solid ideas and recommendations, but always left it up to me on how to proceed. I liked that.
"John's best two qualities are that he's direct and knows his craft inside out. He is forthcoming and does not hold anything back. You get a trusting feeling with him. "Throughout the case, John always kept us up to date by letter or phone. He told us exactly where we were and what could and could not be done. He doesn't build it up.
"John is a top-notch personal injury lawyer who I have recommended to friends and would recommend to anyone needing a great lawyer."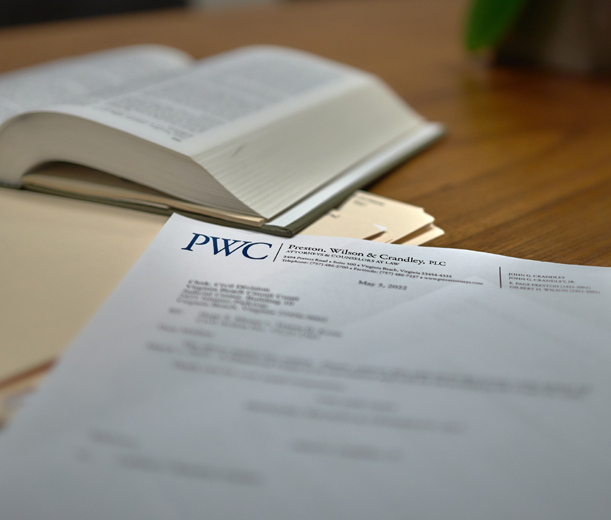 "The law firm of Preston, Wilson & Crandley handled my case very well.

Very professional. I'm very pleased with their service. Anytime I needed to reach them, they were either there for me or called me back immediately. Anytime I needed to know something, they explained it to me very thoroughly, very detailed so that I had a better understanding of what was going on with my case. The entire law firm is very friendly, and I am very satisfied. I highly recommend these attorneys."
"I was very pleased with the way Preston, Wilson & Crandley handled my case.

Their services were excellent from beginning to end — answering all of my questions, helping me through concern and stress, and handling my case correctly. I would absolutely use them again if needed, and I will recommend them to any family or friends who need a great law firm to represent their case."
Positive: Professionalism, Quality, Responsiveness

– Pleased with how my case was handled.